Miramar National Cemetery
---
The Miramar National Support Foundation Board is honored to host our 8th annual Virtual Gala. This year, we are focused our raising the final funds needed for the construction of the Miramar National Cemetery Memorial Amphitheater project certain to enhance the beautiful grounds located here in San Diego.
---
5795 Nobel Drive, San Diego, CA 92122
(858) 658-7360
Open to the public:
Sunrise to Sunset, Daily
Office Hours:
8:30 a.m. to 4:30 p.m., Monday thru Friday
Closed federal holidays, except Memorial Day
To schedule a burial:
1-800-535-1117
For additional information:
National Cemetery Administration.
Process to bury an unclaimed Veteran in San Diego:
Unclaimed Veteran Burial Process
Upcoming Events (Free and open to the public)
Veterans Day Ceremony
(Honoring the 50th Anniversary of the End of the Vietnam War) – Nov. 11, 2023 at 4 p.m.
Fifty new flags fly proudly on the Avenue of Flags following the semi-annual changeout.

Family and friends pay respects to Air Force Brig. Gen. Robert Cardenas at the Miramar National Cemetery, San Diego, California, March 31, 2022. (U.S. Marine Corps photo by Lance Cpl. Jose S. Guerrero DeLeon)

National Cemetery Administration Cemetery Director Development Program Class of 2021-2022 Graduation, Miramar National Cemetery, San Diego, May 11, 2022.

Final Honors – An Aknowledgement of Service to America, honorary horse drawn funeral carriage at Miramar National Cemetery available to any veteran.
---
Honoring Fallen Heroes
As Honor Flight San Diego (HFSD) began to fly Vietnam Veterans, the Miramar National Cemetery Support Foundation had the unique opportunity to assist the organization. HFSD took a plane filled with Navy HA(L)-3 Seawolves from the Vietnam War. We were able to help them remember the 44 fallen Seawolves who were killed in action.
---
Memorial Day 2023
The Miramar National Cemetery Support Foundation was honored to host the first in-person Memorial Day ceremony since 2019. Approximately 200-300 people attended the ceremony to hear U.S. Navy CAPT Tamara Graham speak about the 50th Anniversary of Women Serving in Naval Aviation, and San Diego Veteran of the Year U.S. Navy Veteran Josh Parado who talked about what Memorial Day meant to him.

Our board of directors would like to thank MNC Director Greta Hamilton and her staff, the 3rd Marine Aircraft Wing, Bugler David Kobrinetz, Bagpiper John Forrest, Chaplain Scott Mason, Eagle Scout Gabe Hambrick, Young Marines, and the Boy Scouts, for supporting our event.
If you missed this year's ceremony, you could view it online at:
CLICK HERE TO WATCH VIDEO

We are already planning for our 2024 ceremony – Save the Date for May 26, 2024!
---
National Vietnam War Veterans Day – March 29
If you were unable to attend the National Vietnam War Veterans Day Ceremony at Miramar National Cemetery on March 29, you can watch it by clicking the link below.
---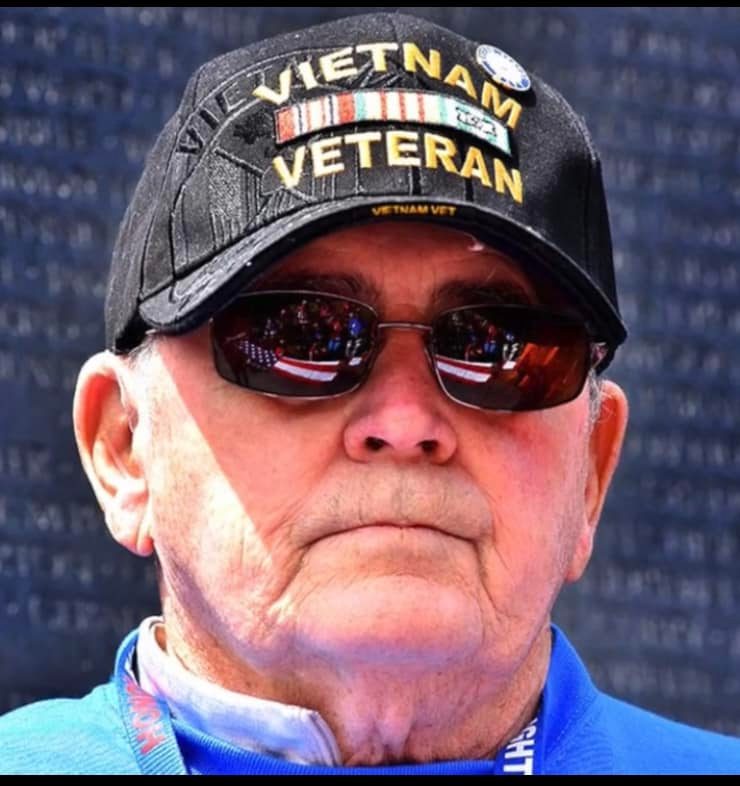 National Vietnam War Veterans Day – March 29
If you served on active duty in the U.S. Armed Forces (at any time) from November 1, 1955, to May 15, 1975, regardless of location, then this day is for you – National Vietnam War Veterans Day.
---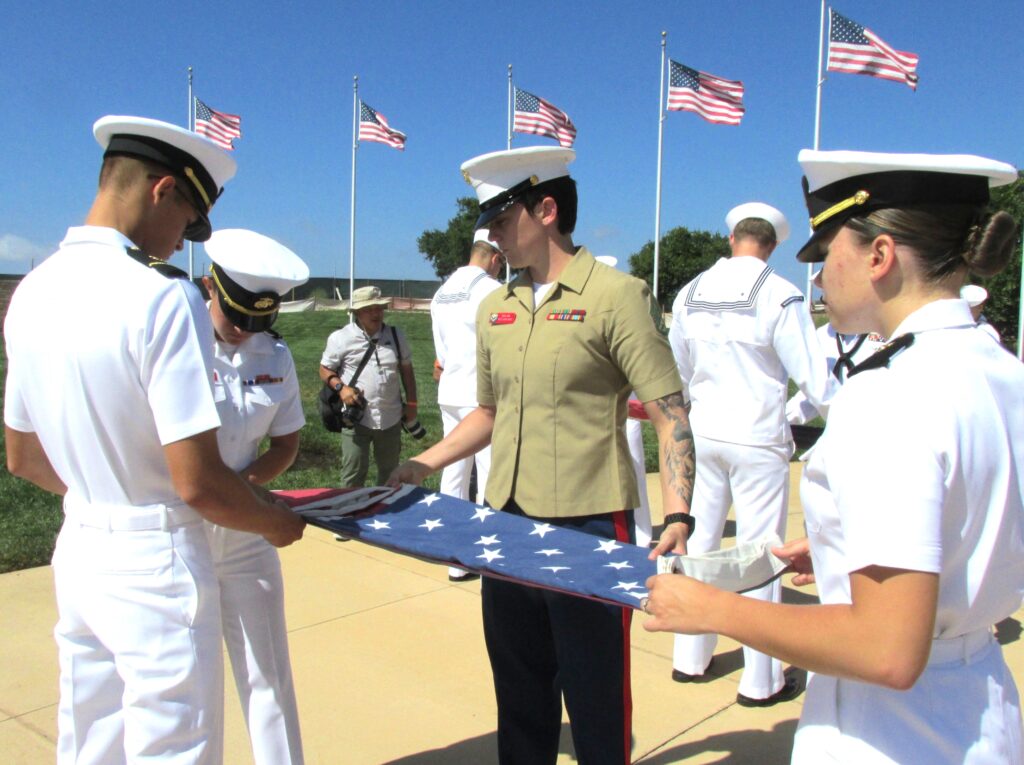 MNCSF gifts flags for fallen Vietnam Veterans
---
---
Newsletter: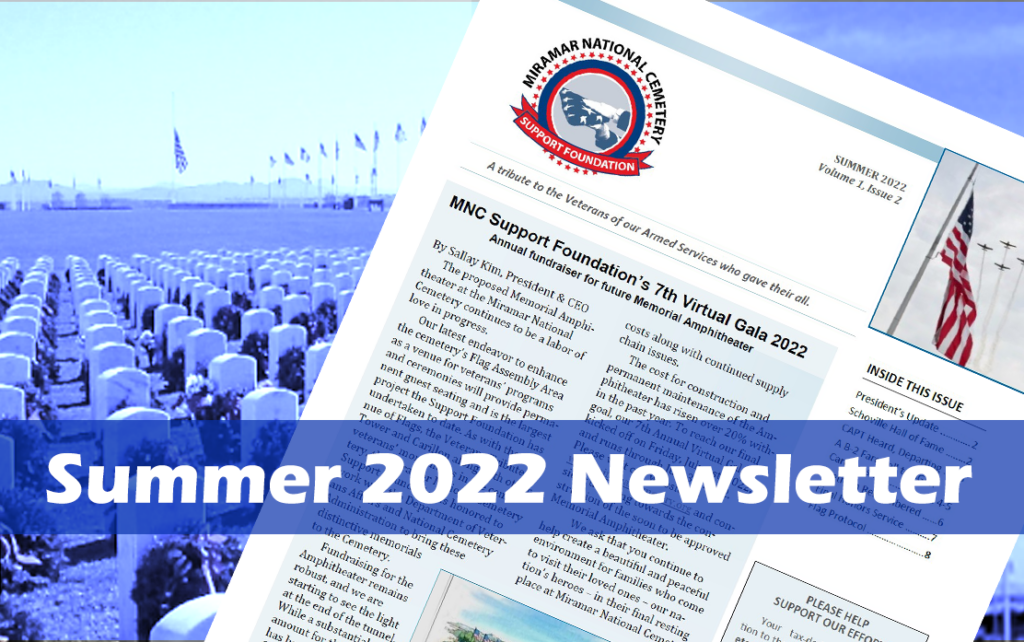 Read Our Latest Newsletter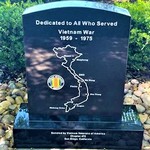 Vietnam Veterans Memorial Dedication
Vietnam Veterans of America Chapter 472 recently installed and dedicated a memorial at Miramar National Cemetery that honors the men and women of the Vietnam War. During the sixteen years of combat action, over 2.7 million military men and women served, and more than 58,000 personnel were killed, as well as the 300,000 who were wounded. This memorial will remember their service and sacrifice.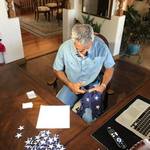 Flag Protocol
Did you know that Miramar National Cemetery is the only National Cemetery with an Avenue of Flags? Just inside the entrance to the cemetery, it is hard to miss the 50 American Flags flying proudly day and night. The Support Foundation is responsible for the upkeep and maintenance of the flags, poles, lanyards, and lighting. Twice a year, just prior to Memorial Day and Veterans Day, the Support Foundation uses donated funds to replace all 50 American Flags.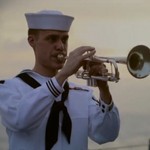 Memorial Day 2022 Ceremony
On this Memorial Day, we remember the men and women of our U.S. military who have made the ultimate sacrifice in service to our nation. This year marks the 80th anniversary of the Battle of Midway; our 2022 Memorial Day ceremony is in remembrance of all the service members we have lost, but especially those during WWII.
---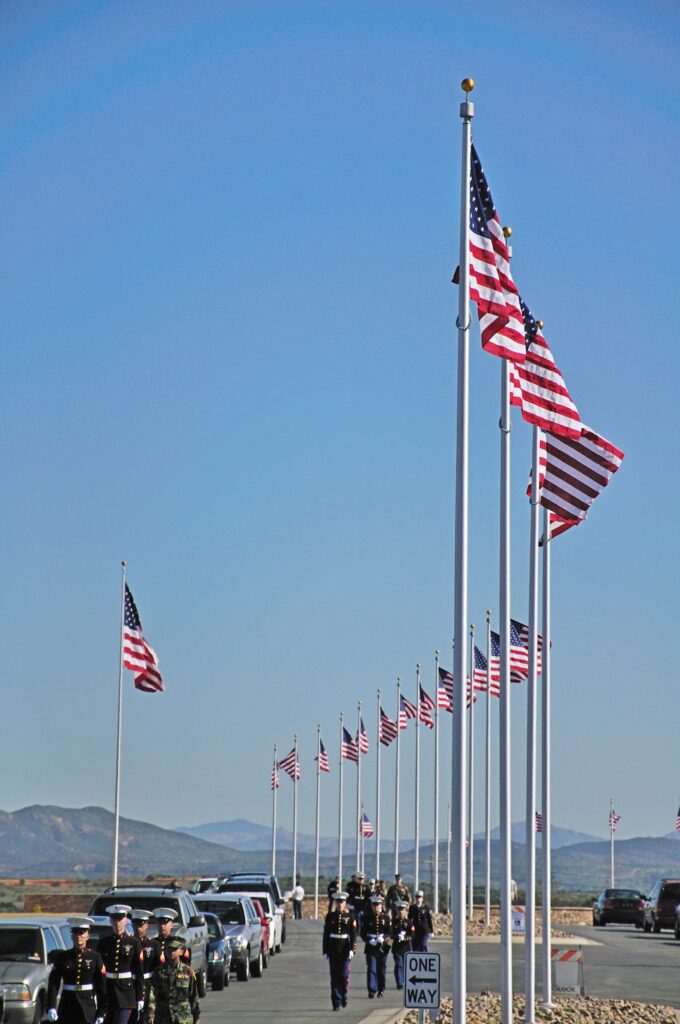 Avenue of Flags: A Decade as Cemetery Focal Point
The Avenue of Flags has stood sentinel over Miramar National Cemetery for 10 years, since its dedication on 28 January 2012, inspiring all who enter or pass by the cemetery. At night, the lighted display can be seen for miles, even by aircraft approaching the city.
---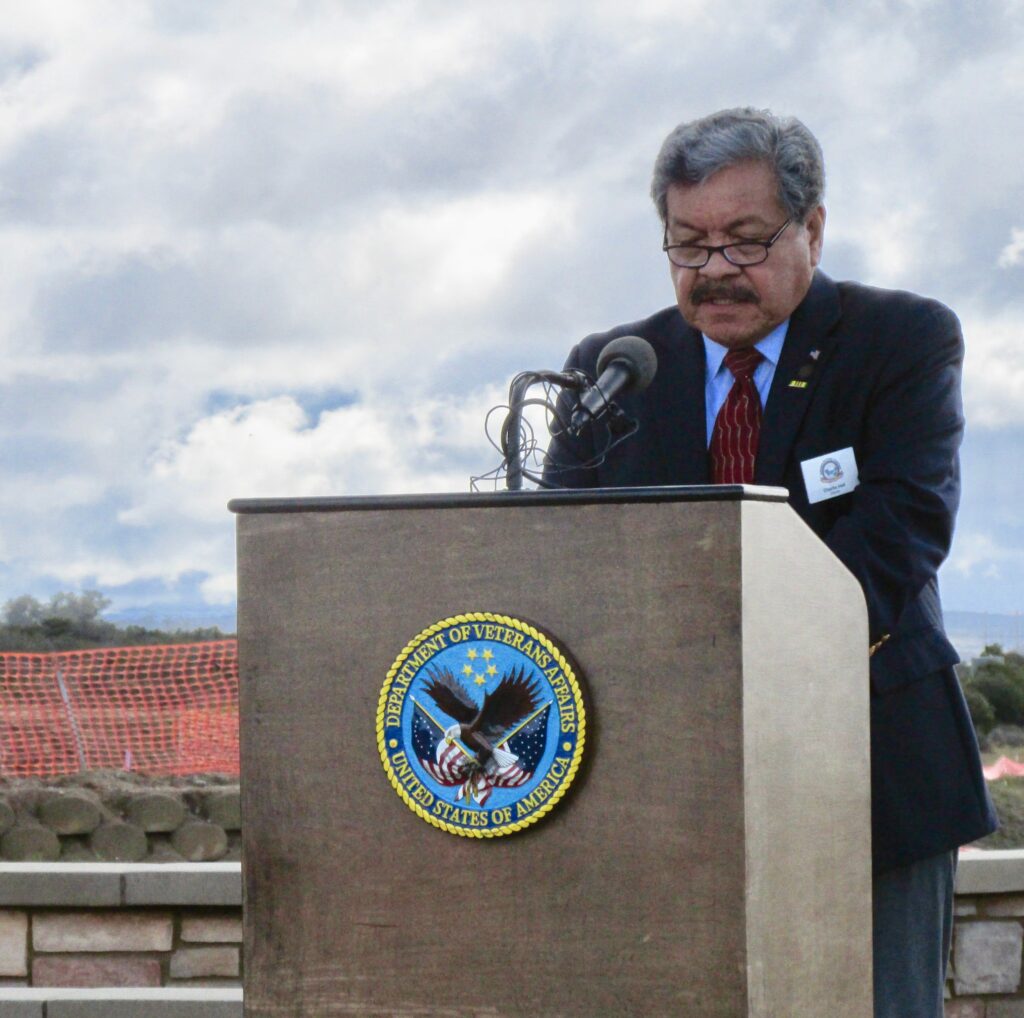 Vietnam War Veterans Day Event at Miramar National Cemetery
The Vietnam War officially ended April 30, 1975, but for Charlie Inot, sights, sounds and smells can still trigger memories of that long-ago conflict. As keynote speaker at a Vietnam War Veterans Day Commemoration at Miramar National Cemetery, Inot recalled his experience as a young soldier.
---
---