Flags for Navy HA(L)-3 Seawolves
For the past several years we have had a dilemma – what to do with the 50 flags from the Avenue of Flags when they can no longer be flown. Twice a year, around Memorial Day and Veterans Day, we need to replace all 50 flags as they become wind torn and faded by the sun.
This past fall, we partnered with a local nonprofit organization, Honor Flight San Diego, to gift 46 of those flags. The organization flies senior veterans on a three-day trip to Washington, D.C. to visit the memorials built for their sacrifice and to truly honor them for their service. Priority is given to the most senior veterans, so prior to Fall 2022 the flight had been reserved for WWII and Korean War veterans. When the trip was opened to the Vietnam era in September, the organization selected a unique squadron, the Navy HA(L)-3 Seawolves, to go on their Honor Flight.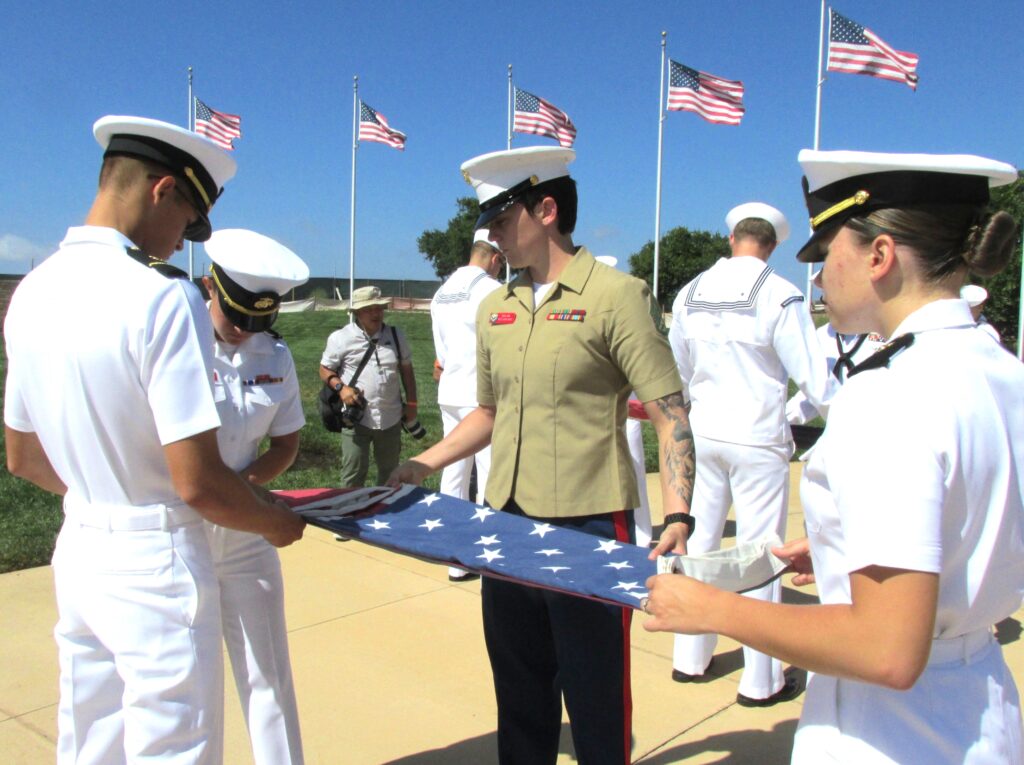 The Seawolves were comprised of about 2,500 men who supported Naval Special Warfare operations and mission with Mobile Riverine Forces. During the war, they flew more day and night missions, and more combat missions than any other unit in Vietnam. They are the most decorated Navy Squadron in the Vietnam War, and in all of Naval Aviation History.
With over 78,000 missions, 1,530 medical evacuations, and 131,000 flight hours, their service came to their country came with a cost – 44 Seawolves were killed in action.
Honor Flight San Diego wanted to ensure that the 44 KIA Seawolves would never be forgotten. So, prior to the Honor Flight, they requested 44 flags for the fallen Seawolves and two more flags for Gold Star Seawolf families who would be on the trip.
When we change out the flags, they are folded in squares until we can repurpose them; but for the trip to D.C., the flags needed to be folded in triangles for presentation and display. In partnership with Honor Flight San Diego, we invited active-duty Navy members, San Diego State University Navy ROTC students, Young Marines, Patriot Guard Riders, and our board of directors to help fold the 46 flags.
The flags, a picture of each fallen Seawolf, and an etching of his name from the Vietnam Wall, went on the Honor Flight and was used as a tribute display to the Seawolves. The two remaining flags were presented to the Gold Star families in a special ceremony at the Vietnam Wall.
When the flags returned to San Diego, Honor Flight San Diego packaged the flags with a note from us and sent them to the families of the 44 KIA Seawolves.
We will be forever thankful to the men who made the ultimate sacrifice and to be a small part in remembering the lives of 44 American heroes.