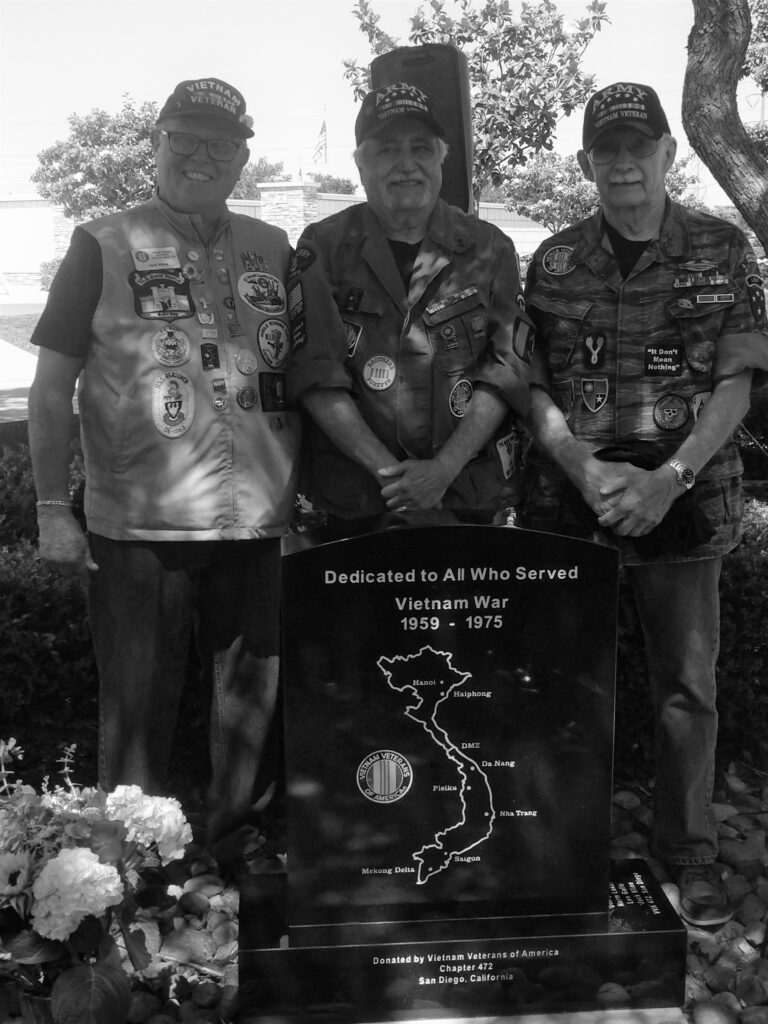 Vietnam Veterans of America Chapter 472 recently installed and dedicated a memorial at Miramar National Cemetery that honors the men and women of the Vietnam War. During the sixteen years of combat action, over 2.7 million military men and women served in country, and more than 58,000 personnel were killed, as well as the 300,000 who were wounded. This memorial will remember their service and sacrifice.
From conception in October 2019, it took over two years to design, build, fund, and receive approval from the Department of Veterans Affairs for installation at the cemetery. The memorial is constructed of black granite, the same black granite that was used for the Vietnam Veterans Memorial (The Wall) in Washington, D.C. On the front of the memorial is the outline of the country of Vietnam with key cities such as Saigon, Me Kong Delta, Hanoi, Da Nang, and has the DMZ listed. The back of the memorial displays the Vietnam Veterans of America logo.
There are ten National Cemeteries in the state of California with only one other Vietnam Memorial located at a National Cemetery (in Riverside). With over 8,800 Vietnam Veterans interned at Miramar National Cemetery, the location for the memorial was ideal as the first cemetery in San Diego County and the second in the state. There are plans for a similar memorial at Ft. Rosecrans Cemetery in the future. San Diego Vietnam Veterans choose the cemetery over other public areas to place the memorial because they knew it would be well-protected and well taken care of on the hallowed grounds.
Vietnam Veterans of America Chapter 472 President Glenn Vandrew said, "This memorial is our legacy. We want people to remember the men and women of the Vietnam War. They say that people die twice – once when your body physically dies, and again when no one remembers you. We didn't want that to happen."
The dedication ceremony was attended by Vietnam Veterans from the U.S. Army, U.S. Navy, and U.S. Air Force, and many local organizations. The San Diego Vietnamese Community honored the veterans with a wreath and a few words – "Thank you. Thank you to the men and women who gave so much for our freedoms."
You can view the memorial in the Memorial Walk portion of the cemetery from 6 a.m. to 7:30 p.m. seven days a week.