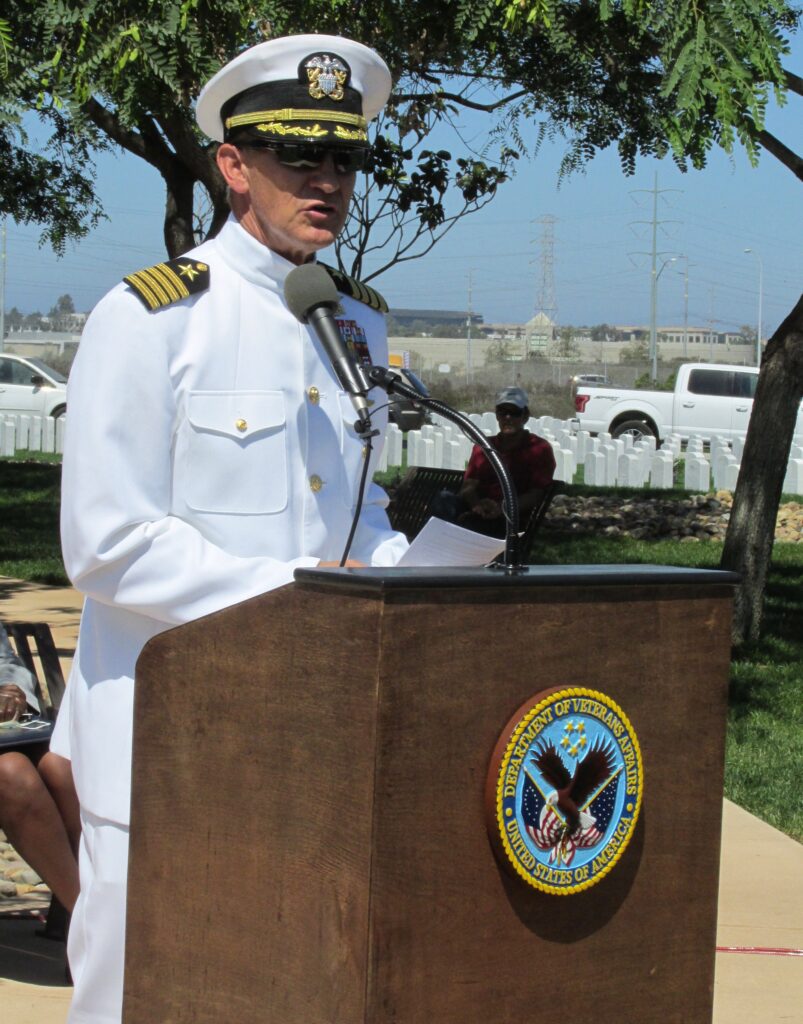 UDT/SEAL Monument Dedicated at Miramar National Cemetery
(Click here for KFMB, Ch. 8, report by Reporter Steve Fiorina.)
(27 August 2021) Navy Special Operations veterans and guests gathered at Miramar National Cemetery, today, to dedicate a first-in-the nation monument to the men and women who sacrificed their lives in service to their country as members of UDT/SEAL teams and support units.
Featured speaker Captain (SEAL) Todd Perry, commanding officer of the Center for SEAL and Special Warfare Combatant Craft Crew units, paid tribute to those killed and wounded on battlefields and during special operations, to the SEAL veterans, as well as to their loved ones who supported them during their deployments.
Navy SEAL veteran Mike Meoli, who spearheaded the effort to place the monument at Miramar, and served as ceremony master of ceremonies, said, "Our seal codes should inspire young prospective SEALS who will become the new guard and replacements for those who came before them."
Meoli, Perry, Navy Warrant Officer (SEAL) Lance Cummings, and 100-year-old Tom Rice of Coronado, a veteran of the 101st Airborne Division who parachuted into Normandy on D-Day, 6 June 1946, unveiled the black marble monument. Rice celebrated his 100th birthday, 15 August 2021, by duplicating the parachute jump from the skies over his hometown of Coronado.
The monument, which stands alongside memorials to other military units on the cemetery's Memorial Walk, includes the numbers of UDT and SEAL team members who were killed in America's conflicts since World War II. It includes this inscription:
A special breed
In times of war and uncertainty, there is a special breed of U.S. Navy warriors who are called to instantly respond from the sea, from the air and on land. This monument is dedicated to U.S. Navy UDT/SEAL Teams. No sky too high, no sea too rough, no enemy too tough.
The Underwater Demolition Team (UDT) trident, anchor and pistol, and the SEAL trident, anchor, pistol and eagle badges are emblazoned on the front of the monument.
"This memorial is primarily dedicated to our active duty teammates killed in action or training," Perry said. "It's about remembrance, resilience and rejuvenation. While we will never forget our losses, we know that our fallen would want us to be strong."
During his remarks, Cummings, a career SEAL and representative of the National Navy SEAL Museum in Fort Pierce, Fla., noted that the Museum plans to open a branch, soon, at The Headquarters, currently a shopping and restaurant venue near San Diego's Seaport Village.
Greta L. Hamilton, director of Fort Rosecrans and Miramar National Cemeteries, welcomed the guests and noted that Miramar—although only opened in January 2010—is the resting place for a number of notable veterans who served in conflicts from the Civil War, World War II, Korea, Vietnam and more recent conflicts.
---
By Bill Heard, PIO Miramar National Cemetery Support Foundation