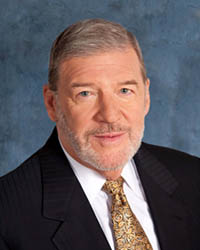 Richard T. Sells, Foundation's last original Board member, retires after 17 years
Richard T. Sells, who played a key role in the location of a second Veterans Administration cemetery in San Diego, is retiring after 17 years as a founding member, Treasurer and Chief Financial Officer of the Miramar National Cemetery Support Foundation.
During his tenure on the Support Foundation, Sells, 82, has been responsible for the organization's financial stability. He also has overseen funding for construction and maintenance of the Avenue of Flags, a display of 50 American flags along the cemetery's main street, and for the Veterans Tribute Tower & Carillon, which strikes the hour and plays patriotic music.
"I know I speak for the entire board when I say it's been an absolute honor to serve beside Rich Sells," said Sallay Kim, President and CEO of the Support Foundation. "His dedication to our mission and commitment to the veterans of San Diego go above and beyond what we could have asked for.
"We have been truly blessed to have him at the helm with the other prestigious veterans who founded this organization and worked hard to establish Miramar National Cemetery," she said. "His legacy as an original member of our organization is sure to endure the test of time."
Firm and steady anchor
"Rich has been a firm and steady anchor for the Support Foundation and he will be sorely missed," said Dennis Schoville, Board Chairman. "He has made major contributions for the benefit of all San Diego County veterans and their families and friends. We wish him and his wife Nancee the very best as they move closer to their family in Las Vegas."
In 2000, Sells was among an ad-hoc group of five local veterans, led by retired Air Force Brig. Gen. Robert Cardenas, who began to explore the opening of a new cemetery as an annex to Fort Rosecrans National Cemetery, which had been closed to in-ground burials since 1966. Many San Diego veterans were being buried at other national cemeteries in California, primarily at Riverside National Cemetery.
The group's efforts were stalled by VA requirements based on the number of veterans living within a 75-mile radius of a population center. An exception could be made, however, if a nearby veterans' cemetery was closed to burials. With Fort Rosecrans closed, Cardenas was able to persuade the VA that San Diego qualified for an annex to the historic cemetery.
Sells led the group's effort to find an appropriate location for a new cemetery. Eventually, a parcel on Nobel Drive at the western edge of Marine Corps Air Station Miramar was selected as the new cemetery site.
Broke ground in 2010
By 2004, the VA had obtained $162 million in federal funding for construction of a 313-acre cemetery with 162,000 gravesites. The VA's National Cemetery Administration broke ground at the site on Jan. 30, 2010, and the first interments were conducted that November.
Sells' work for veterans was broader than his association with the Support Foundation. In 1991, he devised and constructed a traveling replica of the Vietnam Memorial Wall, and in 2000 he introduced the Homeless Veterans Burial program for San Diego County.
After 33 years in the cemetery industry, Sells retired from Service Corporation International—the world's largest owner of funeral homes and cemeteries—having served as Senior Vice President for Domestic and International Sales, and President of SCE's western states operations. He also served as President of the 6,000-member International Cemetery and Funeral Association trade organization.
Sells is a graduate of Washington University in St. Louis. He qualified as a Certified Public Accountant, and worked for Arthur Anderson & Co. He served in the U.S. Army's Armor Corps from 1962 to 1969, attaining the rank of Captain, USAR.
---
By Bill Heard, PIO