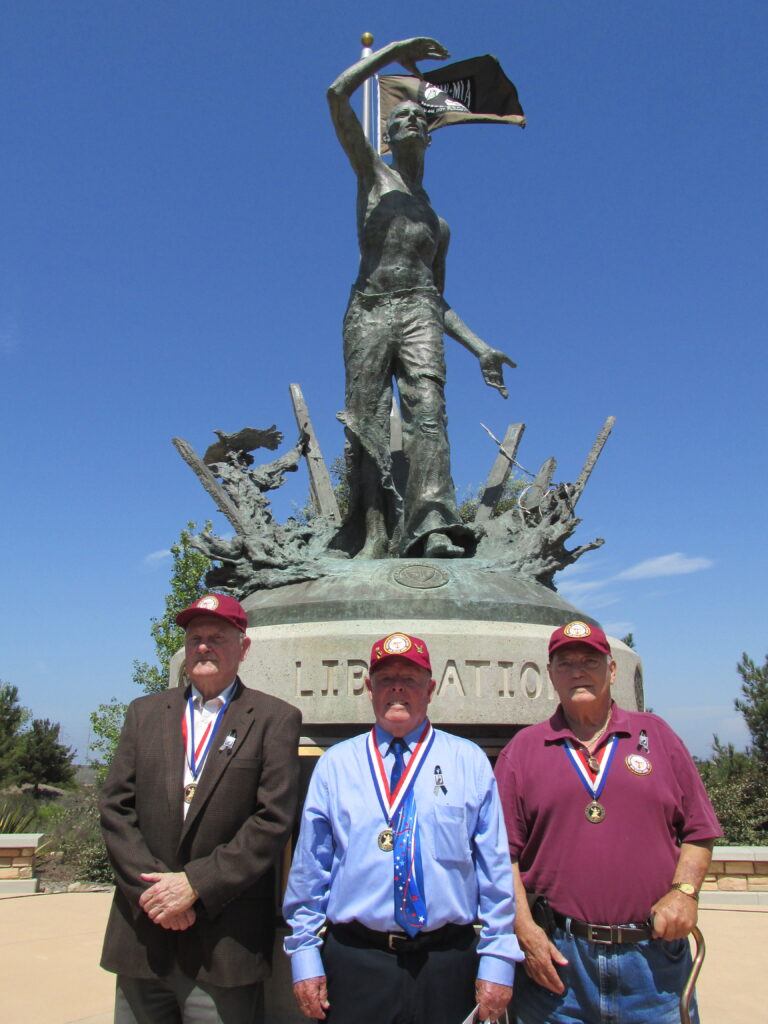 American Ex-POWs Remember the Hardships of Captivity
10th Anniversary of POW Monument at Miramar National Cemetery
(Sept. 9, 2021) It was only a small group of ex-prisoners of war who were left to attend the 10th anniversary of the POW monument at Miramar National Cemetery. The black POW flag, flying above the statue of a gaunt prisoner emerging from barbed wire confinement, waved gently in a warm breeze.
Some 20 family members and friends were on hand for the ceremony, sponsored by the American Ex-Prisoners of War, who dedicated the monument at Miramar on Sept. 16, 2011. The statue stands near the cemetery entrance and remains a major feature of the cemetery.
Two of the elderly POW survivors—Jim Kell and Larry Strickland—had been crewmembers of the USS Pueblo, which was attacked and hijacked in international waters in January 1968 by the North Korean Navy. Along with 80 other Pueblo crewmen, Kell and Strickland were held in captivity under brutal conditions for 11 months.
The Pueblo crew members suffered starvation and torture, interrogation and attempted brainwashing during their internment. Through it all, they maintained unit coherence, and resisted as best they could. They were released following lengthy negotiations between the U.S. and North Korea; and returned to San Diego on Christmas Eve, 1968.
Shot down in Vietnam
Army Corporal Jose Astorga was a door gunner on a Huey helicopter who was captured when his aircraft was shot down April 2, 1972, near the DMZ in northern South Vietnam during a vital rescue operation. Although suffering injuries, Astorga was the only survivor of the crash. The North Vietnamese held Astorga prisoner for 11 months before releasing him on March 5, 1973.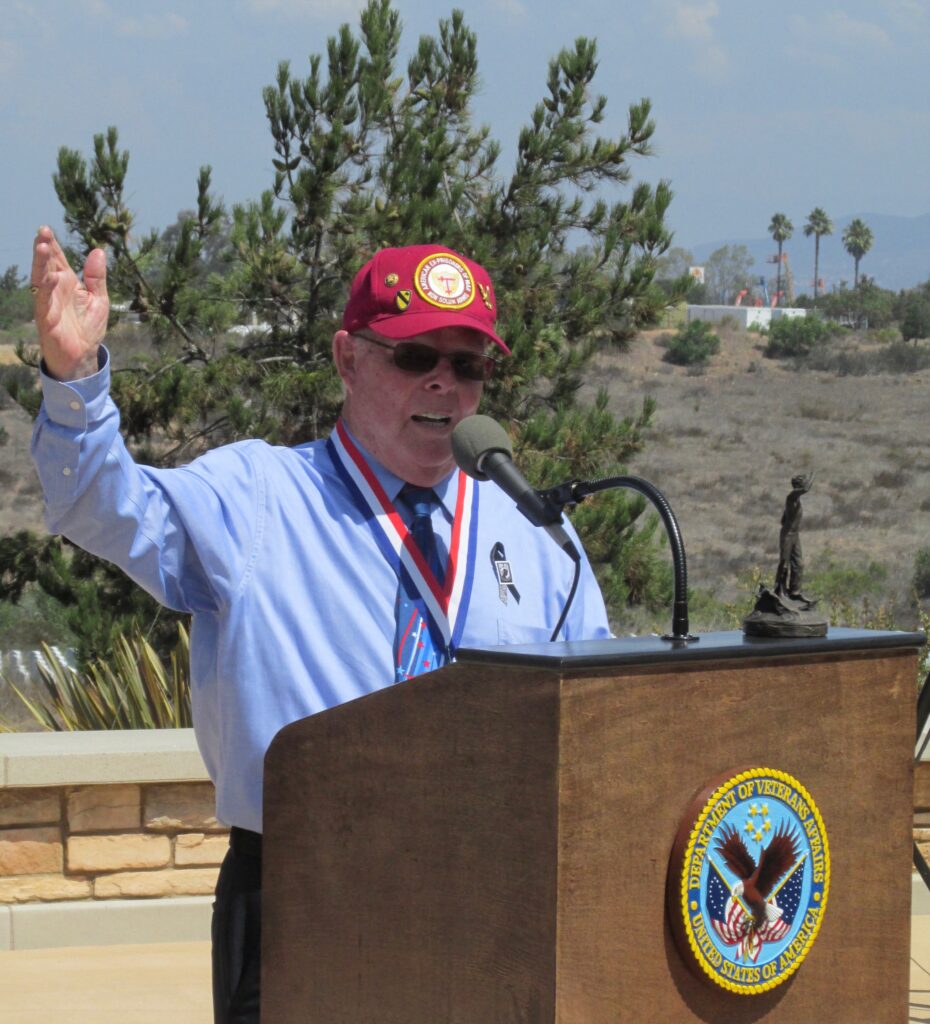 And one—Tom Crosby—was only eight years old when he, his family, and 3,700 other American, British and other Allied civilians were rounded up in January 1942 by the Japanese Army during their invasion of the Philippines. The captives were interned in the Santo Tomas Prison Camp outside Manila.
As the Pacific War drew to a close, General Douglas MacArthur learned the Japan had issued an order to "kill all military and civilian POWs, and leave no trace." On Feb. 1, 1945, MacArthur dispatched three U.S. Army 1st Cavalry tank columns to "Free the internees at Santo Tomas." The first column reached the camp on the evening of Feb. 3, and Crosby and his family were liberated on Feb. 5, 1945.
"What can you say to people who have been stretched beyond human endurance," asked Cemetery Director Greta L. Hamilton during her remarks. She recalled watching television as a young girl on Feb. 12, 1973, when the first American POWs from North Vietnam landed in the United States as part of Operation HOMECOMING.
'Broken, not bowed'
"They were broken, but not bowed," she said. "They maintained their military bearing. They were proud of their country and of their families." She said the Veterans Administration "has never stopped looking, and will never stop looking" for those who are missing in action. "We will continue until we bring them all home."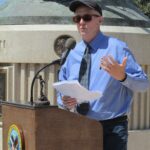 Artist Richard Becker, who sculpted the 15-foot statue, told the audience his work had been inspired by dozens of comments from ex-POWs who were asked to describe their prison camp experiences in just a few words.
"Scared we would starve to death," wrote one ex-POW. "I'm going home!," a POW remembered thinking. "Subdued exhilaration," wrote another. "The Nazi flag came down, and the American flag went up," a POW recalled. "I cried like a baby!"
The POW statue—titled "Liberation Moment"—represents a POW "stepping into the future" after months of inhumane captivity, Becker said.
The Ex-POW organization's concept statement for the statue says it "conveys the excitement, the trepidation, exhilaration and emotion of the LIBERATION moment, as the emaciated soldier steps out of the darkness into the "Sunshine of Freedom." He portrays the hundreds of thousands who were bound in captivity by the infamy of foreign enemies. This is to stand as an eternal legacy for our community, reminding visitors of the sacrifice of veterans during America's efforts to keep alive the hopes and dreams of freedom for the oppressed around the world."
By Bill Heard, PIO