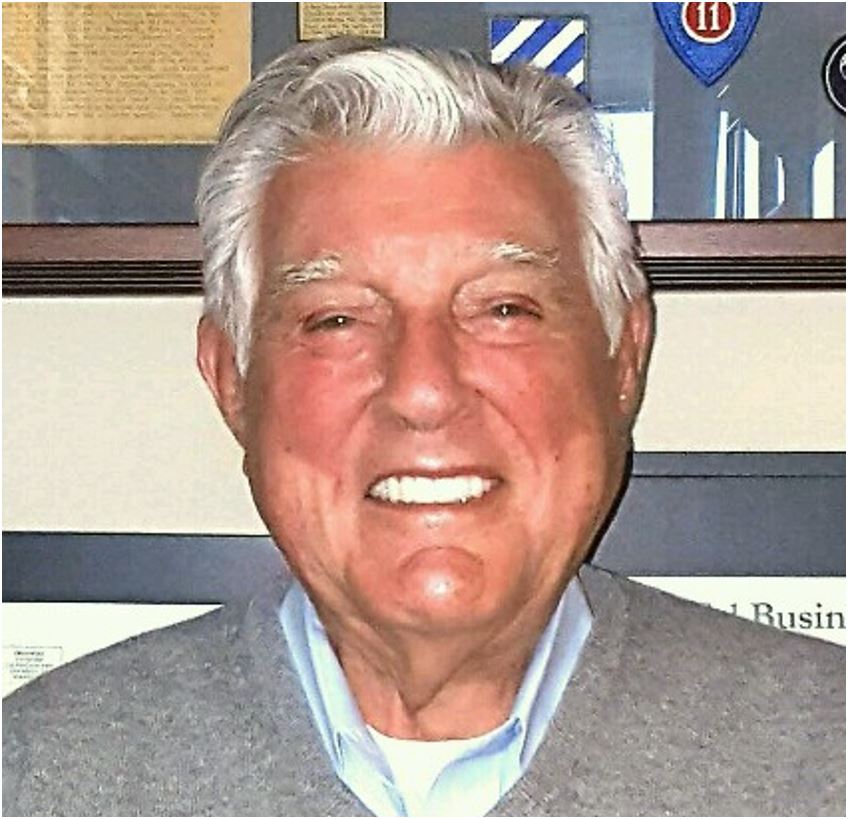 Bob Baker, San Diego Businessman, Veteran, Patriot, and Philanthropist Died Sept. 5
(Sept. 8, 2021) Bob Baker, well-known San Diego businessman, veteran, patriot and philanthropist—and major benefactor of the Support Foundation—died Sunday at his home in Rancho Santa Fe. He would have been 90 years old on October 1.
An Army veteran of the Korean War, Baker fought with the 15th Infantry Regiment, 3rd Infantry Division at the crucial Battle of Outpost Harry in June 1953. The outpost was a strategic position on a tiny hilltop on the direct route to the South Korean capital of Seoul, some 60 miles south.
The embattled troops were told to "hold at all costs." They endured repeated attacks and hand-to-hand fighting with Chinese troops over an eight-day period. Baker was awarded the Bronze Star Medal with V device for his actions in combat.
Baker's memories of service with his comrades of the 15th Infantry Regiment remained with him throughout his life. On Veterans Day in 2016, he dedicated the Veterans Tribute Tower and Carillon—for which he had provided the majority of funding—in their honor. The Tower, which stands on a hillock on the north side of Miramar National Cemetery, marks the hour with bell chimes, and plays "Taps" each day at sunset.
"Bob never forgot his pledge, made in the heat of combat in Korea, to honor God and to do good with his life," said Support Foundation Chairman Dennis Schoville. "His love for his fellow Veterans was exemplified by his generous support of the U.S. Army Museum and Miramar National Cemetery. May this patriot and true hero rest in peace."
Services for Baker will be held at 10:30 a.m., Sept. 18, at St. Therese of Carmel Catholic Church in Carmel Valley.
To read a full obituary of Bob Baker in the San Diego Union-Tribune, click here.